If you are Roku user and want to watch the content available through DirectTV subscription., then you can enjoy the DirectTV now service with the help of the DirectTV Now app for Roku. So in this post, we will discuss all the Roku device which supports Direct Tv app and how to install DirectTV on Roku.
How To Install DirectTV Now on Roku
Installing a DirectTV on the Roku is most simple as installing like any other app on Roku. For that, you just have a compatible Roku TV, Roku streaming stick or Roku box.
Before installing the DirectTV app you have to follow a few things:
Ensure that the Roku device connected properly to the internet.
Ensure that you logged in to your Roku account on the device.
Ensure that the Roku device you are using has the updated software.
Once you confirm all the above things, then do the following steps to get the DirectTV app on your Roku.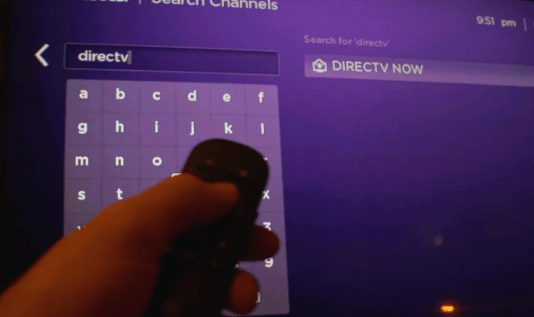 Press the Home button from your Roku remote.
Select Streaming Channels from the list appears on the left side of the screen, and then select "Search Channels".
Now search DirectTV Now with the help of a keyboard that appears on the screen.
Select DirectTV Now when it appears in the search results. Click on the "Add channel".
Wait For The DirectTV to be installed. It will take a minute to be installed. Once it is installed, click on the "Ok" button.
With the DirecTV Now app installed on your Roku device, log into your DirecTV Now account in the app.
List Of Roku Device For DirecTV Now
As all the Roku device doesn't support the DirecTV app, so DirectTV provides a list of Roku devices which supports the app.
Following is a list of Roku devices, that are recommended by DirectTV as these are compatible with the DirectTV app.
4K Roku TV (models: 7000X)
Roku non-4K TV (models: 8000X)
Roku Streaming Stick (models: 3600X, 3800RT, 3800RW, 3800X)
Roku Streaming Stick+ (models: 3810RW, 3810X)
Roku 4 (model: 4400)
Roku non-4K TV (models: 5000X)
Roku 2 & 3 (models: 4210, 4200 & 4230) & Roku 4K TV (model: 6000)
Roku Express (model: 3700) & Roku Express+ (model: 3710)
Premiere (model: 4620)
Premiere+ (model: 4630)
Ultra (models: 4640X, 4660RW, 4660X)
Roku Express (models: 3900RW, 3900X)
Roku Express+ (models: 3910RW, 3910X)
Issues Regarding DirectTV Not Working On Roku
While using DirecTV Now on your Roku stream in the player, the issue you might be facing are listed below:
DirectTV Now app is not working on Roku
DirectTV Now app is not loading on Roku
DirectTV Won't Load On Roku
DirectTV Now app is not showing on Roku
Unable To add a DirectTV New on Roku
DirectTV Now the app is not working on Roku
Why can't I add DirectTv Now to my Roku
DirecTV app won't work on a Roku player
Reasons Which Are Possible For The Not Working Of DirectTV Now On Roku
Bad Internet Connection: One of the major causes of not working on the DirectTV app is a bad internet connection.
Wiring Configuration: And secondly, it could be as a result of a bad connection.
Receiver And Signal Issue: And it may happen due to the bad receiver and signal issues.
How to Fix Direct TV not Working on Roku Issue
To solve the above-mentioned problem, do the following troubleshooting steps:
Step1: Firstly check you have a proper internet connection.
Step 2: All the cable wires between the devices should be connected finger tight and to the corrected port.
Step 3: Power cycle your devices. After power cycling, the issue gets fixed.
If you are facing such kind of issues, then you can contact or approach Roku customer Support. You can also take help from DirectTV specialists when you encounter the problem of DirectTV Now not Working On Roku.
To get more info about DirecTV, please Click Here…
Summary
Article Name
DirectTV Now Not Working On Roku | 877-590-2114 | Install DirectTV Now On Roku
Description
Is your DirectTV Now app not working on Roku, Call DirecTV specialist to fix your issue. To install DirecTV Now on your Roku. Call Toll Free@877-590-2114.
Author
Customers Support Helpline
Publisher Name
Customers Support Helpline