How To Fix Xfinity Stream Not Working On Firestick & Roku
Xfinity Stream is a good source of entertainment and you can stream 200+ Live TV channels, on-demand shows, movies, Live Sports, and many more. If you have installed Xfinity Stream On Firestick & Roku and facing an issue with the Xfinity Stream app then read on this article. To learn how to install Xfinity Stream on Firestick, Click Here…
In this article, we will discuss some of the issues that you might be faced with Xfinity Stream on Firestick & Roku and also guide you on how to troubleshoot the problem when Xfinity Stream Not Working On your Roku & Firestick. Lets started: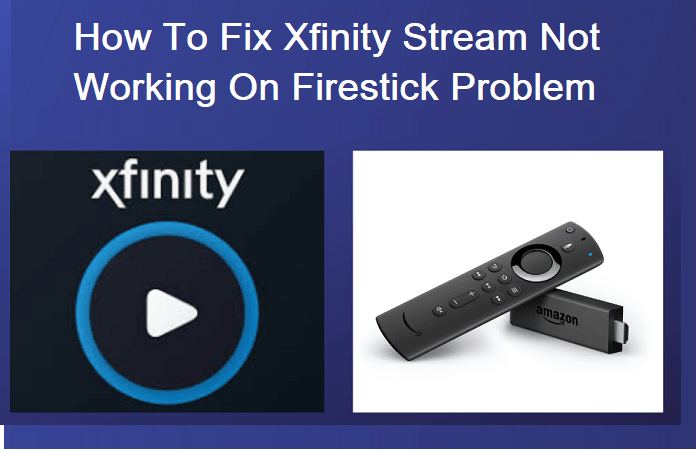 Issues That You Might Be Face With Xfinity Stream App On Your Firestick & Roku
Here we have listed all the issues that you might be facing while using Xfinity app on your Firestick & Roku.
Xfinity Stream App not Responding
Xfinity Stream App Closes on Launch
Getting Connection Error
Getting Out of Home Error Message
Xfinity Stream Playback Error
Xfinity Stream App Not Responding or Closes on Launch – Troubleshooting
If you are getting Xfinity Stream app error in which Xfinity Stream app not responding or getting closed while launching then follow the below instruction to solve the problems. Here's is how to do that:
Close & Try Re-opening The App: Do the first thing, just close the app and launch it again.
Turn The Device On and off: Whenever you face such type of problem just turn off your device and wait for a few seconds then turn it on.
Log Out And Login To The App: After doing the above steps still experiencing the issue, then log out of the app and log in again.
Reinstall The App With The Latest Version: Most of the time you face issues due to using an old version of the app. So un-install the app and installed its latest version.
Xfinity Stream Out Of Home Error -Troubleshooting Tips
Most of the users face Out Of Home message while login to their Xfinity Stream app. This error comes when you are not connected to your home Xfinity Wi-fi network..
Do the following troubleshooting step to fix Out of Home error while login to your Xfinity Stream app. Let's do that:
Go to the Wifi settings of your device and make sure that you are connected to your home Xfinity Wifi network.
Ensure you can connect to the Internet through a web browser while connected to your in-home network. This must be done on your in-home network, not via 3G or 4G.
Try accessing the Xfinity Stream app from another mobile device, or visit the website (http://www.xfinity.com/stream) from your computer. If you are able to log in from the second device, verify the WiFi settings on the original device
Log out of the app and log back in: Navigate to the Settings gadget on the Xfinity Stream app.
Select Change Household Account.
Note: If you have previously downloaded any recordings to-go, logging out will return these recordings to your DVR and remove them from your mobile device.
Ensure that your cable modem information – make/model, serial number, and MAC address – is accurate for your account. You can review online by visiting: https://customer.xfinity.com/MyServices/Internet. If your modem information is incorrect, please Contact Us to update it appropriately.
If you still are experiencing issues while using Xfinity Stream so please Get in touch with a Comcast representative. You can reach them by calling on their helpline number or chat with them online.